QuickBooks desktop premier is one of the most robust Intuit accounting software. It helps to organisations manage essential financial tasks like paying bills, creating invoices, producing reports, and tracking expenses, contributions, and payments.
Organize your finances all in one place using QuickBooks Desktop Premier Plus—now with up to 38% faster* performance speeds.
Why to choose INFOTREE IT
InfotreeIT is the authorized reseller of intuit QuickBooks in UAE.
We're a trusted name in the industry due to which a lot of accountants and small-medium sized businesses rely on our services.
QuickBooks Desktop Premier Plus
The QuickBooks Desktop Premier Plus version is the Desktop Premier software, one of the most comprehensive bookkeeping software solutions Intuit offers, with additional usability features included with the monthly fee. These additional features include free software upgrades, daily backups, and 24/7 customer support. In addition, the software offers more than 150 detailed reports along with industry-specific files, menus, and accounts. You can also create sales and expense forecasts and business plans with this QuickBooks software.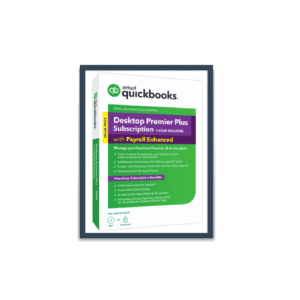 Enhanced computing power (64-bit)
QuickBooks Desktop Premier Plus includes improved utilization of the 64-bit processors found in most computers to maximize performance and stability, making it up to 38% faster.* You'll be able to maintain seamless third-party integrations by using the developer-preferred infrastructure and get the peace of mind that comes with knowing QuickBooks meets modern operating system standards.
QuickBooks Premier appears in the following software guides:
More about QuickBooks Desktop Premier
Intuit QuickBooks Desktop Premier has more advanced features than QuickBooks Pro. If you manage inventory, Premier lets you quickly locate items and complete inventory related tasks all in one place using the Inventory Center in QuickBooks Premier. You can also track your balance sheet by class – use the built-in, easy-to-access report to track financial data separately by location, department, or profit center in QuickBooks Premier. With the Invoice Status Tracker, you get real-time visibility of invoice statuses to expedite collections and stay on top of your cash flow.
If you require QuickBooks help, our team of QuickBooks ProAdvisors is standing by to assist you with any questions you may have. Need more than five users? Try QuickBooks Enterprise instead, which supports up to 30 users.
How does QuickBooks Desktop Premier Plus work?
Among other features, QuickBooks Desktop Premier Plus includes automated data backup, unlimited customer support, the ability to track inventory levels, schedule automatic reports, generate industry-specific reports and create forecasts based on historical data.
Users also can schedule and pay bills from within the software, upload documents through the mobile app (to attach to transactions) and use the same app to turn snapshots of receipts into expenses. And if you need payroll, the company lets you bundle Enhanced Payroll with your Premier Plus subscription for an additional fee.
Benefits of QuickBooks Desktop Premier Plus
Industry-specific options. If you're a general contractor, you can use QuickBooks Desktop Premier Plus to generate reports that organize job costs by vendor and that help you understand each job's profitability.
If you run a nonprofit, you can use the software to create tax forms and donation records. Other supported industries include retail, professional services, manufacturing and wholesale.
QuickBooks is widely used. QuickBooks software has been the industry standard in accounting software for several decades, so most accountants are familiar with it.
Though sharing with your accountant is easier with QuickBooks Online, it's still relatively simple with the Premier Plus plan. Users create an Accountant's Copy and send it through email. With QuickBooks Online, however, accountants can sign in to your account and work in it while you do.
Drawbacks of QuickBooks Desktop Premier Plus
Not cloud-based. QuickBooks Desktop Premier Plus must be locally installed and requires a Windows 8.1 or Windows 10 operating system. While this was once the norm for accounting software and can still be helpful for people who have limited internet access, QuickBooks appears to be encouraging users to move into the cloud.
Also, relying on locally installed software means that if your computer crashes and you don't have a backup, you could lose your data. Users can combat this data-loss risk with Intuit Data Protect (which is included with Premier Plus) or by scheduling backups manually.
Intuit QuickBooks Premier Features:
Automated Payment Reminders
You can now easily set reminders for due payments from customers. For that, you will need to create a mailing list and add customers to that list. Once done, you are all set to put payment reminders from the "Schedule Payment Reminders option" and send reminders from the "Review & Send Payment Reminders."
With this feature, you can easily search for any company file in the "No Company Open window." These files will be stored on local storage or removable devices.
QuickBooks Premier 2020 update offers a more secure and safe mode to exchange and transfer data between accountants and QuickBooks customers.
You can get access to live experts via messaging and call back options with the help of the F1 key. With F1, you can also get enhanced Smart Help content and search experience.
QuickBooks Premier 2020 version now enables you to add a customer PO number to the email subject line for better management.
Customer Payment Processing
You can consolidate multiple numbers of invoices into a single mail and simplify the customer payment process.
You can have a total count of customers in reports by simply hiding the columns in reports with jobs and classes.
You can add items, set low inventory alerts, and run a number of inventory reports.
Alternatives to QuickBooks Desktop Premier Plus
For a cloud-based QuickBooks experience, consider QuickBooks Online. This software product runs in a browser, so you (and your accountant) can access it from anywhere, and it includes a higher-functioning mobile app than QuickBooks Desktop. In addition to capturing receipts, the QuickBooks Online mobile app lets users run reports, enter transactions, reconcile transactions, send invoices, create estimates for customers and track miles on the go.
QuickBooks Online also could be much less expensive than its desktop equivalent, depending on the plan and number of users you choose. For example, QuickBooks Online Plus, which includes five users, though promotions may be available.