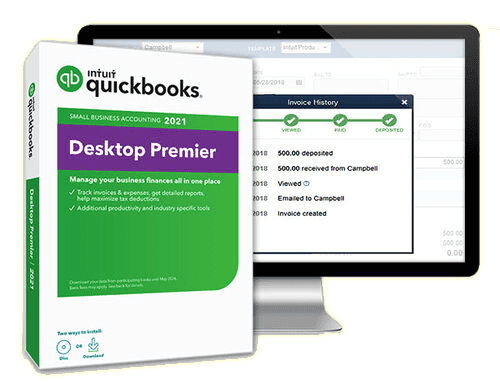 This is an on-premise accounting software that is built to provide users with a wide range of automated features that make all accounting tasks less complicated, accurate and easy to execute. Whether you want to pay bills, print checks, or track expenses, the QuickBooks Premier is designed to handle that and much more
Quickbooks Desktop Premier 2020 UK Edition
QuickBooks Desktop Premier UK 2020 is a small business accounting software business use to manage their income and expenses and keep track of the financial progress of their business.
QuickBooks Desktop Premier UK 2020 is a small business accounting software business use to manage their income and expenses and keep track of the financial progress of their business. You can use it to invoice your customers, pay the bills, generate reports, and prepare for tax season.
About QuickBooks Desktop Premier
QuickBooks Desktop Premier is an on-premise accounting solution that enables users to prints checks, pay bills and track expenses. The solution offers features including sales tracking, customer payment processing, payroll management, payroll taxes, invoice creation, job costing, purchase order management, transaction monitoring, inventory tracking and more. To cater to industry specific needs, QuickBooks Desktop Premier has five editions: Contractor, Nonprofit, Retail, Manufacturing and Wholesale and Professional Services.
QuickBooks Desktop Premier accounting software includes pre-built reports, customized terminology and navigators for each industry. Organizations can control access to information by implementing individual user permissions and track expenses by client, project, service and employee. Users can import contacts and other accounting data from Excel to QuickBooks.
Accounting professionals, as well as inexperienced business owners, can use QuickBooks Desktop Premier to set up recurring invoices, track their balance sheet by class, track inventory items, create job estimates and more. Some of QuickBooks' Desktop Premier-only features include creating a forecast, creating a business plan, an analysis tool, remote access, tracking inventory assemblies and sales order reports. Services are offered on a one-time payment or annual subscription basis for the specific number of users. Support is available via online training classes and live chat.
Why to choose INFOTREE IT
InfotreeIT is the authorized reseller of intuit QuickBooks in UAE.
We're a trusted name in the industry due to which a lot of accountants and small-medium sized businesses rely on our services.
Product Features Highlights
in insights into your business
Track how your business is doing with one-click financial, tax and sales reports
Create Invoices and Track Sales
Easily create invoices and sales receipts to keep track of who owns you money, what they bought, and when they paid you.
Save time on data entry – download your online bank transactions directly into QuickBooks.
Stay on top of your expenses
Clearly see bills and purchase orders at one place. Track what's paid or owed, and take immediate action on unpaid bills
Batch Delete Transactions
Save time by removing duplicate transactions or entry errors from the form's sections in a single step.
Improve your cash flow by tracking invoice status at a glance.
View unpaid bills from a vendor to easily manage payments
Transfer customer credits across jobs quickly and easily.
Compare Product's Features
| | QUICKBOOKS DESKTOP PRO 2021 | QUICKBOOKS DESKTOP PREMIER 2021 |
| --- | --- | --- |
| | | |
| Get started fast with guided setup | | |
| Import data from Excel and more | | |
| SAVE TIME ON EVERYDAY TASKS | | |
| Create professional estimates and invoices | | |
| Track sales, sales taxes and expenses | | |
| Be ready at tax time with easy, reliable reports | | |
| Organize your business in one place with Customer, Vendor and Employee Center | | |
| Download your bank transactions | | |
| Track inventory, set re-order points, create purchase orders | | |
| Work in more than one currency | | |
| Allows more than one user at a time | 1 included up to 3 (each sold separately) | 1 included up to 3 (each sold separately) |
| GET BUSINESS INFORMATION YOU NEED | | |
| Get financial, sales and tax reports in one click | | |
| Uncover business insights with industry-specific reports | | |
| TOOLS TAILORED TO YOUR INDUSTRY | | |
| Set product/service prices by customer type | | |
Quickbooks Desktop Premier Feature
We are leading Authorised QuickBooks Enterprise Pricing / QuickBooks Software Dealer in Dubai, Sharjah, Abu Dhabi, UAE, Oman, Qatar, Doha, Kuwait, Muscat, Bahrain, Saudi Arabia, South Africa, Nigeria serving full Middle East.
BUY NOW & GET UPTO 50% OFF
More about QuickBooks Premier UK
Intuit QuickBooks Premier UK software has a set of preinstalled unique features such as sales tracking, payment processing, payroll management, payroll taxes calculation and management, invoice and bill creations, inventory tracking, transaction tracking, purchase order tracking, job cost control, and much more. Moreover, the software has a dynamic industry setup that lets users choose their industry type and access relevant features accordingly. Fully-integrated with smart reporting technology and other hi-tech features, QuickBooks Premier is a fully-customizable software that provides full access and control for companies of all sizes.
If you require QuickBooks help, our team of QuickBooks ProAdvisors is standing by to assist you with any questions you may have. Need more than five users? Try QuickBooks Enterprise instead, which supports up to 30 users.